T-CLX 018
A LIGHTWEIGHT THAT PERFORMS LIKE A HEAVYWEIGHT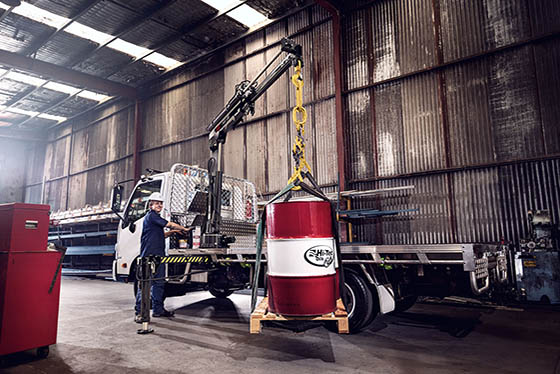 Allows one-person on-the-spot loading and unloading while lifting over a tonne up close
Unfolds to reach over 4 metres horizontally / 5 metres vertically
Fast installation time + fewer lifetime ownership costs
Modular design lets you choose capacity and options
Works on its own or mounted on your vehicle
Save money: Environmentally friendly HybridDrive™ lets you lift with the engine off
The HIAB T-CLX 018 has all the nimbleness of a lightweight crane but with the power to do the heavy lifting for items like sand, compressors, generators and pumps. The base CLX model has incredible reach and lift – 440kg per metre on a four-metre outreach/five-metres vertically and over a tonne of lifting capacity up close. It's right at home on building sites and gives you versatile access to job sites that challenge other material handling equipment. The T-CLX 018 knuckle crane is one of HIAB's innovative new T-series that highlight a unique modular design that let you configure your crane from a choice of six capacities, two control systems and a number of options. At just 180 kg it's still light enough for single-person loading and unloading and can fold quickly packs easily under your pickup cover with no wasted space.
And its no lightweight when it comes to endurance. Like all the T-series, the T-CLX 018 is tough and durable with a well-sealed, moisture-free cast base for trouble-free ownership and corrosion-resistant nDurance paint that will look good for a lifetime. Its compact size and lightweight make it flexible and cost-effective. But what can really save you money is its optional HybridDrive™ feature. T-series cranes can do a number of lifts with the engine off. So you can load and unload quietly with no fuel or emissions.
The innovative new T-series builds on HIAB's already unparalleled safety and value. They are easy to configure. Easy to install. Easy to own (ask about our in-house financing). And easy to care for thanks to Atlas Polar's national service network that's second to none.
HIAB T-Series: Your crane, your choices – capacity, control system and options
It's easy to choose the HIAB T-series crane that's right for you. First you decide how much or how little you want to lift, and how. Next, choose your control model. If you have a smaller pickup with a smaller platform, the CLX is made for your everyday needs. Easy to use, its manual steering can convert to basic remote control with an easy added option. HiDuo is made for operators who demand total control and safety in demanding situations. Along with the SPACE system, the remote controlled HiDuo has Smart Control. With it you can perform several crane movements at the same time to load and position more quickly while its high boom alert warns you of obstacles. The HiDuo also comes with XS Drive Lite™ that lets you manoeuvre with pinpoint accuracy from the safest vantage point. Finally, choose from options including the innovative and environmentally friendly HybridDrive™ that lets you perform several lifts with the engine off.
Technical Specifications
Lifting Capacity:
1,700 kg @ 1.1 m / 3,748 lb @ 3 ft 8 in
(T-CLX 018-1)
450 kg @ 4.1 m / 992 lb @ 13 ft 6 in
(T-CLX 018-3)
Max Hydraulic Outreach:
4.2 m / 13 ft 10 in - horizontal (T-CLX 018-3)