Sea Crane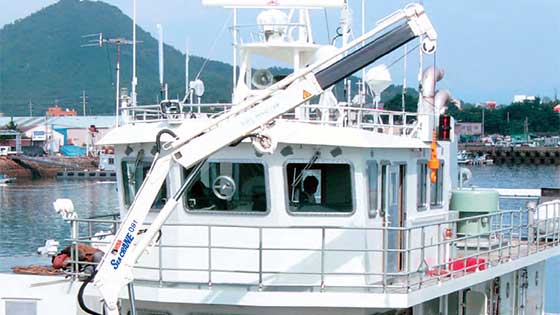 Your Best Source for a full range of true marine crane packages.
Increase Productivity with high capacity, proven marine models.
Lower Cost Of Ownership with long life design, full corrosion protection and reduced maintenance costs.
Best Support Network with advanced design, training, testing and certification experience.
HIAB invented the world's first hydraulic crane in 1944. From there, they went on to produce the hydraulic articulated crane, which was adapted to marine use.
The HIAB Sea Crane made its first appearance in the post–WWII era and has been used in a wide variety of marine applications ever since. From coast guard and military ships to ice breakers, dredgers and trenchers, these cranes are used in many ways. The oil and gas industry, commercial fisheries, army supply ships, fire and rescue, and even Antarctic adventure tours – these are just a few of the several major industries where you will find HIAB sea cranes.
Versatility, Design, Longevity
Like all HIAB cranes, Sea Cranes offer tremendous versatility. They are designed to withstand even the harshest conditions, and they are also designed for long life.
The lifting capacity of the Sea Crane line extends from 8 tonne meters to 40 tonne meters. Key features that make these cranes high performers in marine environments include:
double-duty slewing systems – allows you to operate the crane at 5° heel and 2° trim without any restriction on lifting capacity
marine painting of 250 micron
galvanized extension booms to withstand ocean conditions
stainless steel pipes, hose and pipe fittings prevent corrosion
stainless steel bolts (except in high tensile areas)
marine valve for trouble-free service
chrome plating for extra protection in marine environments
double-chrome treatment and special seals on all hydraulic cylinders for even more protection
oil bath slewing system for extra long life and easy maintenance
Optional features include hydraulic powerpacks for each model and remote controls.
A Complete Range of Cranes for Any Marine Application
HIAB Sea Cranes have a wide range of capacities, making them ideal for any number of marine applications. Here is just a small sample of what we have available:
Sea Crane 061 – Lifting Capacity 5.7tm outreach up to 9.2 m
Sea Crane 081 – Available in three sizes with maximum lifting capacity up to 8tm. The boom on the 081–1 extends to nearly 6m, the 081–2 to nearly 8 m and the 081–3 to nearly 10 m.
Sea Crane 121 – Three models with maximum lifting capacity up to 14tm. Booms in the 121 line extend from nearly 8m to 12m.
Sea Crane 201 – Four models with maximum lifting capacity of 19tm. The boom on the 201–1 extends to just over 6m, while the 201–4 extends to just over 12m.
Sea Crane 251 – The 251 line includes four models with a maximum lifting capacity of 27tm. Boom extensions run from 6m in the 251–1 to nearly 12m in the 251–4.
Sea Crane 301 – Four models with maximum lift of 29tm, and reach between 6.3 and 11.8m.
This line of cranes includes many optional add–ons, like: electric, gas or diesel self–contained powerpacks; various capacity planetary winch kits; pedestals for the crane and control valve; marine version cable or radio remote control systems.
For exceptional performance in harsh marine environments, you can count on HIAB Sea Cranes. Contact Atlas Polar to learn how HIAB cranes can work for you.