XS Cranes for Marine Use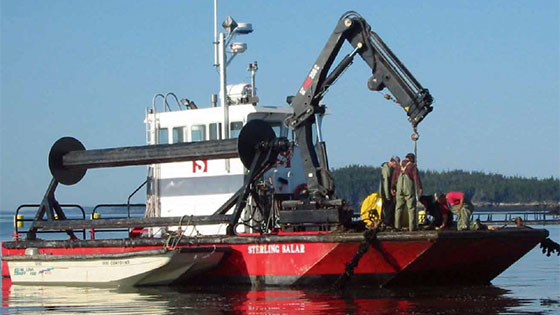 HIAB has a long tradition of developing cranes to suit specific applications. Their XS line of truck-mounted cranes are used in construction, road building, and recycling and waste hauling. The same great technology has been reconfigured for marine use, giving you the option of transferring a proven performer on land to an aquatic environment.
Key Features for Marine Applications
Converting a land crane to marine use requires some changes to the crane. Select HIAB XS cranes have been reconfigured to allow their use in marine environments. Key features include:
Pivot pins – crane shafts are designed to prevent corrosion with nickel or hard chrome plating or nitrocarburation.
Internal hoses – hoses are routed inside the loader body to protect them and reduce maintenance costs.
Hexagonal booms – this shape ensures perfect balance and large slide pads reduce friction to keep maintenance costs in check.
Crane base – the robust rack and pinion slewing system – with oil-bath lubrication – ensures high slewing torque and minimum maintenance.
Fittings and hardware – iron/zinc plated to resist corrosion; bolts are zinc/aluminum chrome plated; hose and pipe ends are plated and North American Standard JIC.
Control valve – the HIAB V80 control valve has rubber boots on the spool ends to prevent corrosion; connections with plated JIC fittings.
All steel components undergo a six-stage painting process that includes degreasing, phosphate treatment, immersion dip painting, powder coating and hardening in a convection oven.
Optional features include: various capacity planetary winch kits; electric, gas or diesel self-contained powerpacks; pedestals for the crane and control valve; marine version cable or radio remote control systems.
A Wide Selection of Models
HIAB XS cranes come in various capacities that suit a wide range of marine applications. Here are a few examples:
XS 077 – A medium range crane in the 7 tonne meter class with up to four boom extensions and a maximum outreach of 11.6m.
XS 144 – Another medium range crane with lifting capacity between 11 and 14 tm and a maximum reach of 15.1m.
XS 211 – A powerful crane with lifting capacity between 19 and 21 tm, and a maximum outreach of 16.6m.
XS 244 – A powerful crane rated at 22 tonne meters, with a maximum outreach of 17.2m.
XS 288 – A heavy range crane in the 25 to 40 tonne meter class. Its maximum outreach is 20.8m
XS 322 – Another powerful performer in the heavy range, this crane has a lifting capacity between 27 and 32tm, and a maximum outreach of 21 m.
Contact Atlas Polar to learn more about using the versatile and dependable XS line of cranes for marine applications.