HiDUO 062 TRUCK-MOUNTED CRANE
ALL YOU EXPECT – AND THEN SOME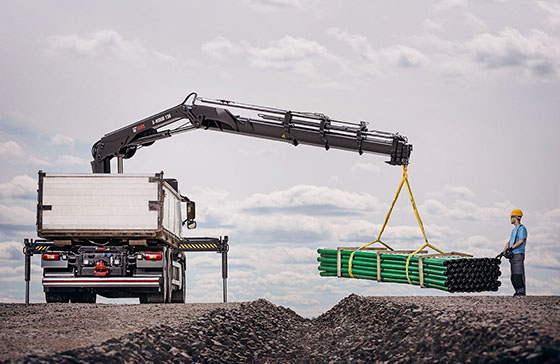 More capacity with less weight for heavier payloads
Fast load cycles that are ideal for lift and load jobs
10% power boost when you need it most
Easy to mount; easy to service
Highest resale value in the industry
EVERYTHING YOU EXPECT FROM HIAB – AND MORE
The X-HiDUO 062 truck-mounted crane gives you everything you expect from HIAB, the world's leading truck-mounted brand – like durable construction, long life, low maintenance, ease of use, high performance and a high degree of safety. The X-HiDUO 062 articulating crane is highly efficient, with an external display, optimized hydraulics and valves and the HIAB SPACE system. You have complete control and stability – even during vertical lifts – as it instantly responds to lever movements. The X-HiDUO 062 also gives you more in the form of a host of innovations, options, and accessories.
RELIABILITY, DURABILITY, LONG LIFE AND LOW MAINTENANCE
The HIAB X-HiDUO 062 articulating crane's durable high-tensile steel construction is robust and coated with HIAB's high-tech, anti-corrosion nDurance™ paint system. It improves wear and keeps your crane looking great for a lifetime. Installation is fast and easy thanks to an integrated oil tank in the crane base – smart thinking that eliminates the need to rearrange truck components. And parts and components are easily accessible for quick service. Little wonder why HIAB truck-mounted cranes have the highest resale value in the industry.
OPTIMAL CAPACITY, PERFORMANCE AND CONTROL
The HIAB X-HiDUO 062 articulating crane has an optimal weight-to-capacity ratio that maximizes payload. A 730 kg X-HiDUO 062 can deliver up to 349 kg to 11.2 m. Standard features save you oil, fuel, time and money. Auto Damping of Oil (ADO) smoothly returns you to where your lever stops every time, sending oil back to the tank in three seconds. The X-HiDUO has Automatic Duty Control (ADC), load-holding valves on all boom cylinders and easy-tilt stabilizer legs. Automatic Speed Control (ASC) provides an automatic 10% capacity boost when needed – without interruption or lost performance. And when it comes to control, XSDrive Lite™ gives you the best and safest vantage point to manoeuvre your crane accurately, while the X-HiDUO 062's B-link Boom system is doubly fast, reduces crane weight and is ideal for lift and load jobs.
OPTIONS, ACCESSORIES AND MORE FOR OUR CUSTOMERS
The HIAB X-HiDUO 062 can give you more of what you need with an available XSDrive™ remote control system for two-way communication and up to 24 simultaneous functions to take efficiency to the next level. Need greater control or faster, smoother operation? A horizontal Load Stability System (LSS-H) can provide faster, smoother operation, prevent excessive lever actions and protect people, equipment and surroundings. Or choose from a range of accessories that make fast, easy work of specific tasks without needing more equipment.
The HIAB X-HiDUO 062 is backed by Atlas Polar, Canada's #1 truck-mounted sales and service network of authorized, factory-trained dealers nationwide. We do more for our customers so that they can do more too.