Boom Truck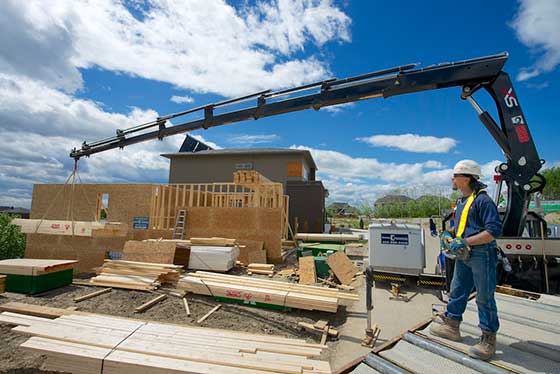 Save Time using a reliable HIAB crane for job site deliveries.
Be More Productive and Reduce Costs by delivering more product with fewer trucks.
Purchase with Confidence as HIAB has the highest re-sale value in the market.
Total Coverage with the strongest truck mounted crane sales & service network in Canada.
Atlas Polar carries a complete range of boom trucks suited to businesses that need to move supplies and equipment.
Our company introduced the hydraulic truck crane concept and working equipment to Canada over 50 years ago, and we have been an industry leader in boom truck sales ever since. Our inventory includes trucks that are first in their class, recognized for their safety features and excellent performance. We offer both new and used truck crane sales, giving you even more options for purchasing superior equipment while staying on budget.
Versatility and Selection in Boom Truck Sales
Whatever the application, we have the right boom truck. From light range crane trucks for lifting light loads, to the heavy duty cranes used to move building supplies, concrete forms and more, we have the selection you need.
The key products we stock include:
HIAB Cranes – HIAB boom trucks are the most popular crane trucks in Canada. With the industrys highest resale value, these trucks are a wise investment. They are backed by the largest sales and service network in the country and supported by the biggest in-stock parts inventory. HIAB boom trucks cover the full range, from 12,000 GVW to the 37,000+ GVW favored for large construction projects. HIAB cranes offer industry-leading design and top of the line hydraulic control systems.
HIAB cranes are recognized for their innovative design, excellent performance, safety features, and durability.
HIAB's superior hydraulic systems ensure that the crane moves smoothly and easily into place. Advanced ergonomic designs ensure operator comfort. HIAB cranes also include precision remote controls for efficient operation. Many models offer a variety of boom extensions for added capacity and greater reach. All are designed to maximize transport economy, with compact dimensions in the folded position.
For more information on our wide selection of HIAB boom trucks, visit our HIAB crane page. We offer detailed specs and product brochures on each crane, as well as a handy guide for selecting the right truck mounted crane for your needs.
Boom Truck Support and Service
Atlas Polar offers full support after every sale of a boom truck. We have a reputation for responsiveness and for finding the best solutions for our customers. Our MatchMaker® program assures you maximum performance and cost-efficiency by selecting the best combination of equipment for your needs.
Contact us today to learn more about boom truck sales and service from Atlas Polar.