M8 55.3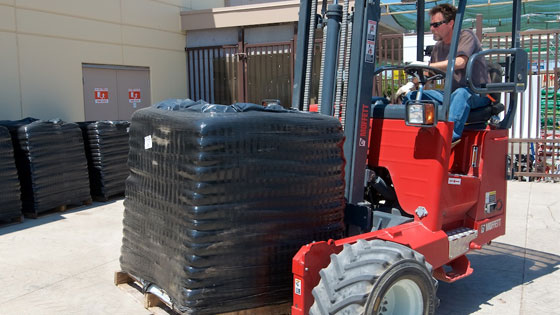 Save Time using a reliable Moffett forklift for job site deliveries.
Be More Productive and Reduce Costs by delivering more product with fewer trucks.
Purchase with Confidence as Moffett has the highest re-sale value in the market.
Total Coverage with the strongest truck mounted forklift sales & service network in Canada.
tnsize=small
The Moffett M8 55.3 is Canada's top choice for a versatile truck mounted forklift. Superb performance and reliability are the keys to this product's success day in, day out. With its maneuverability and rough terrain capabilities, the M8 55.3 model is suitable for operation on the toughest job site or tightest city street.
The Moffett M8 long reach model is already a major success story in businesses such as: Building Supply (lumber, brick and block), General Cartage... and many more!
The Moffett forklift integrates easily and efficiently with your truck or trailer putting you in complete control of your delivery system. Always expect the very best in standard equipment from your Mounty M8 55.3:
Powerful Kohler Tier 4 Final diesel engine
Full-time all-wheel drive system
Differential lock
Hydraulic stabilizers
Seat belt
Safety door with arm rest
Work lights
Flashing beacon & backup alarm
ROPS and FOPS certified overhead guard with rain shield.
Technical Specifications
Lifting Capacity: 5,500 lbs. @ 24" load centres
Lift Height: (std.) 3040 / 120 in.
Engine Power: 56 HP (Tier 4 Final)