435K Crane and Kenworth T880 - SOLD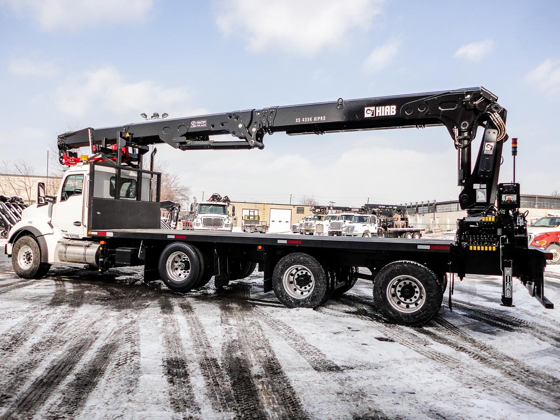 Contact Details
| | |
| --- | --- |
| Darren Parr | (416) 529-8005 |
HIAB Boom Truck Package
Model:
HIAB 435K Dywall Boom
Year:
New
Lifting Capacity:
9,920 lbs@27'7"/1,760 lbs@76'1"
No. of Hydraulic
Extensions:
Four
Hydraulic Outreach:
79'5" horizontal, 89' vertical
Accessories:
HIAB's CombiDrive Radio Remotes, Aux. Legs, Engine controls from Remote, available with hydraulic winch or hydraulic forks & rotator. Cutting edge technology gets the job done quickly and safely!
Truck Details
| | |
| --- | --- |
| Make: | Kenworth |
| Model: | T880 |
| Year: | 2017 |
| Mileage: | New |
| Engine: | Cummins |
| Manufacturer | |
| Horsepower | 485 hp |
| Transmission: | Manual 8LL |
| Deck Length: | 24'6" |
| GVW: | 80,000 lbs |
| Brakes: | |
| Front Axle: | |
| Rear Axle: | &nbsp |
| Suspension: | &nbsp |
| Lift Axle: | quad-load sensing & self steering |
| Wheelbase (WB): | |
| Cab to Axle (CA): | |
| Comments: | Ready to work package - Incredible strength & speed |
| HIAB Boom Truck Package Price: | SOLD |
Contact Details
| | |
| --- | --- |
| Darren Parr | (416) 529-8005 |