Falcon Celebrates 20 Successful Years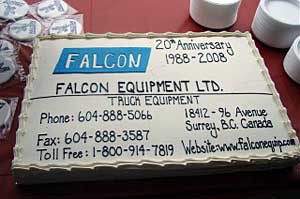 I would like to take a moment to congratulate Falcon Equipment Ltd. for celebrating their 20th year in business. In an age where companies come and go and rise and fall, being around for two full decades is not an accomplishment to be taken lightly.
For those of you who are wondering how Falcon has been celebrating their 20th birthday, the answer is expansion! That is right, Falcon has thrived so well in the BC marketplace and beyond that they strategically added another ten bays, in a facility separate of their original location. I hope they took the time to enjoy a piece of that cake to celebrate their expansion plans!
For those of you who are looking for a little more info about Falcon Equipment, they sell, install, and service items such as HIAB cranes, Moffett forklifts, and Multilift Hooklift systems. Falcon services British Columbia and Atlas Polar is proud to be associated with the firm. We wish them much continued success and milestones over the next 20 years.